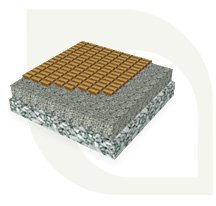 Purpose/Application
Each sourced product is designed for use as a foundation layer under permeable pavements to provide drainage and stability.
Engineered Properties
A crushed aggregate product is produced under controlled conditions and engineered to provide the desired drainage for water and to have adequate strength and stability to accommodate typical construction equipment that is used to construct permeable pavement systems. Engineered properties include:
Proprietary gradation
Material compaction will need to be determined based on desired stability and voids. A compaction of 90% standard proctor will provide:

Voids - ratio of at least 30%
Permeability - at least 28 ft. per day (ASTM D2434)
Stability - a minimum CBR of 20 (ASTM D1883)
Durability - meets aggregate quality requirements for soundness, abrasion and deleterious materials in Standard Specifications for Road and Bridge Construction book of the Illinois Department of Transportation (1004.01)

Increased compaction levels (greater than 90%) will typically result in reduced voids and permeability but an improved CBR rating.
Veco™ Is The Right Choice.
The Green Choice.
Vulcan is dedicated to the environment with smart, sustainable solutions. The use of VecoBase, like many Vulcan products, may enable our clients to get LEED
®
credits. In fact, Vulcan will provide LEED
®
support with your Veco order that may be used towards contributing to LEED
®
credits.
Environmentally Right and Foundationally Strong.